Office Space Leeds
It's undeniable; Leeds is a great place to do business. It's an exciting city with a cosmopolitan culture, buzzing night-life, and a great business environment.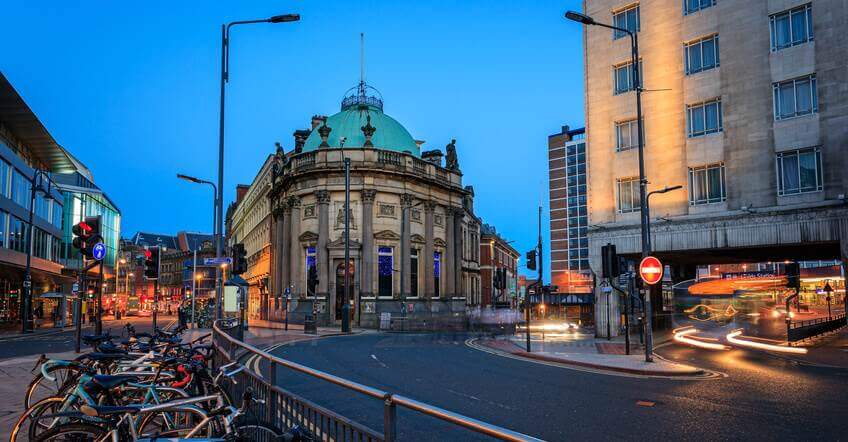 What's more, real estate consultants Cushman & Wakefield labelled the city's office rental market as the best value for money in Europe. With more than 24,000 companies registered in Leeds there's no doubt the city is full to the brim with exciting businesses. All this makes it a top location in which to let office space.
Why Leeds?
Well, there's a huge number of reasons you might want to consider office rental in Yorkshire's biggest city:
The offices: If you want to lease your own space, there are loads of traditional rental properties available in Leeds. If you want desk space, the city also boasts a great array of flexible, all-inclusive serviced office space (you might have also heard these called Business Centres). Whatever you need, you'll probably find it in Leeds.
Cheap, but how cheap? It's all well and good being labelled the best value office rental market in Europe, but what does your money actually get you? Well, a single desk in a flexible, fully-serviced office in Leeds costs more than £300 less than a similar executive office space in the capital.
The talent pool: There are six universities in Leeds and the city has one of the largest student populations in the country, made up of around 250,000 people. Make no mistake, there's a lot of talent at your fingertips if you locate in Leeds.
The very best company: Leeds is the UK's largest centre for financial and professional services outside of London with 30 national and international banks based in the city. Other top businesses you'll find in Leeds include BT, Pricewaterhouse Coopers and the headquarters of legal experts Hammonds.
Where to go
If you're looking to rent offices in Leeds, then the first place you might be drawn to is the city centre, particularly on and around Park Square. This area boasts some of Leeds most impressive, modern properties. You're also only a few minutes walk away from the station and the shopping district.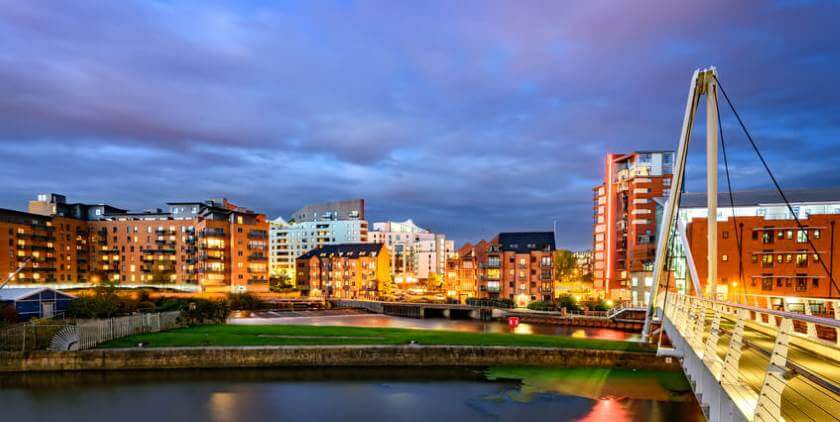 Moving out of the city centre, Leeds is home to a number of business parks. Many of these are located outside the inner ring road, where land costs are that bit lower. We (along with IBM, who have offices there) think the pick of the bunch is Thorpe Park.
Despite boasting fewer rollercoasters than its Surrey namesake, this particular business park is still an exciting option. It's a great location, far enough out of Leeds to avoid the worst of a city-centre commute, whilst the centre is still within easy access. It's also an area on the up, with plans afoot to expand the park.
Leeds for businesses on the move
Leeds' location makes it particularly attractive to many; lying just off the M62 and M1 you can quickly get to almost anywhere in the UK.
Within the city, in addition to a road system that's received £50 million of investment in recent years. There's also the handy CityBus, which connects the station, with the business and shopping districts, the university the and hospital for a mere 50p.
Leeds city train station is one of the busiest outside of London with 9,000 passengers crossing its 17 platforms every day. It takes just over two hours to reach the capital and there is a direct link to the Eurostar, making European travel an easy option.
Finally, you've also got the Leeds Bradford International Airport. You can fly to 72 destinations across Europe and beyond to cities such as New York and Boston.
Find Leeds offices right here
If you want to rent an office in Leeds you've come to the right place. We've got a huge variety of spaces available for rent, many of which you'll see above. If a property does take your fancy all you have to do is:
Click 'View details' on the office you like the look of.
If you'd like to enquire, fill out our quick enquiry form.
If you want to do another search, use the 'Filter search' box.
There you can also add the number of people you're searching for and/or the ideal price you'd like to pay per person per month.
If you want a cheap property it may pay to expand your search using our 'Radius' option. Often more inexpensive offices are found a little further from the centres of towns and cities.
Want to speak to someone about your office search? Our team would be happy to help. Give them a call on our search-line (its at the top of the page).