Office space: Manchester
Manchester has always been a step ahead of the rest of the country. The epicentre of both a UK and worldwide industrial revolution, its contribution to the global economy has always been crucial.
Now, with more than 60 banking institutions located here employing more than 15,000 people, it's no wonder the city is seen as a real commercial and financial centre.
The city is also well known for research: giving us everything from Ernest Rutherford's atom-splitting genius in 1871 to the Science Park today which is one of the UK's premier research sites. With billions being invested, Manchester is building an exciting future on an impressive past and is a fantastic option for office rental.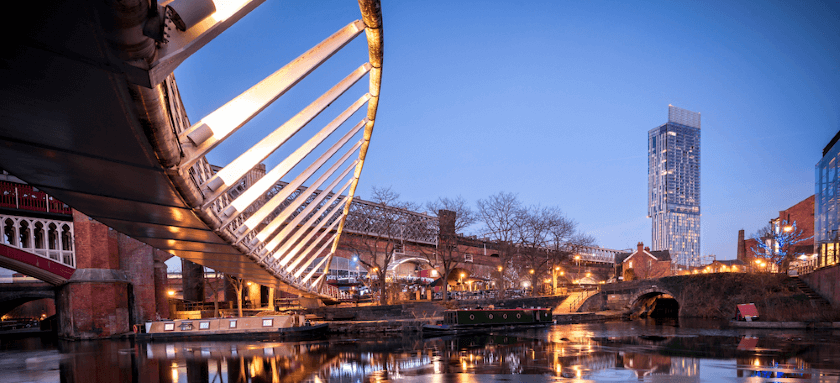 Offices in Manchester: Leased, shared and serviced space
The office space market in and around Manchester is both abundant and varied. You could consider renting…
Traditional Rentals: Let an office from a landlord on a long-term lease. If you want a cheap space you can design and kit out yourselves then this may well be the way to go.
Serviced offices:Business centres offer all-inclusive executive desk space on flexible rolling month-to-month contracts. All you have to do is turn up, plug in and work away.
Shared Offices: If you want to rent a cheap all-inclusive alternative then consider a shared office. This type of office space (where you rent another company's empty desks) is generally cheaper than serviced office space. You'll usually get a more basic package however.
Why Manchester?
In addition to the wide variety of offices up for rent, there's a whole host of reasons to let a property in Manchester:
The prices: Not only is there a great variety of office space available in Manchester, there's great value to be found. For example, a desk in a serviced central Manchester property on Office Genie is around £350 per month cheaper than you'd pay for the same desk space in the capital.
The qualified workforce: In addition to the University of Manchester and Manchester Metropolitan University, there 15 other colleges and universities within an hour of the city.
The company: Central Manchester is home to 65 of the FTSE 100 companies; rent office space in Manchester and you'll certainly be right amongst the big boys.
The extra-curricular activities: Manchester has more cafes, pubs, bars and restaurants than you could ever want or need. You'll rarely struggle to find a place for a quick lunch, post-work pint or even an informal business meeting. If the best business is indeed done at the pub, then Manchester has you covered, and then some.
Where to go
Manchester is a huge city, with any number of different locations that might be a great option for your business. Below are just a few of our favourites:
Piccadilly: Arguably Manchester's premier location to rent office space. Piccadilly is smack bang in the middle of the city and boasts a vast array of modern, top-spec offices.
Spinningfieds: Some call Manchester's financial heart, located just west of Deansgate, 'the Canary Wharf of the North'. Locate here and you'll be joining financial giants such as RBS who've just based their new headquarters.
NOMA: One for the future, NOMA is a 20-acre spot north of the city with designs on being a real hub for businesses of all shapes and sizes. This part of Manchester is really up there with London's International Quarter as one of the most exciting developments in the entire country.
Salford: This is a location that's really on the up, signalled by the BBC's recent move to the area. This has made Salford now one of the UK's media hotspots. What's more, with it being a little further out of the city centre, you might find one or two bargain properties here!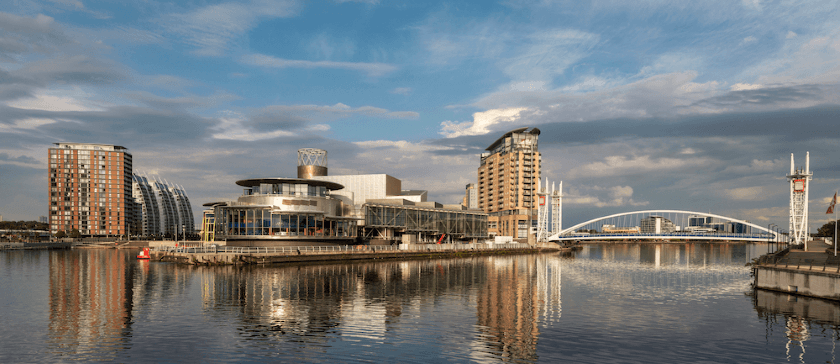 Transport options
Not only does it have the standard road and rail networks you'd expect from a major city, but Manchester also boasts the extensive 'Metrolink' tram network.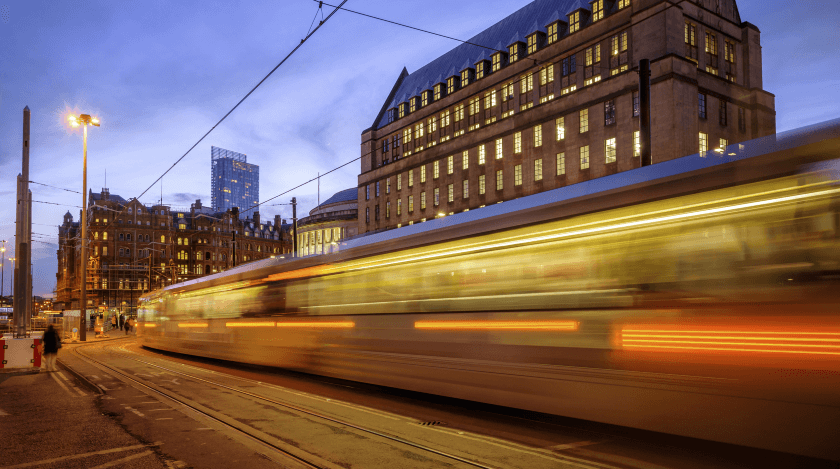 The tram line will soon connect the city to the international airport (one of the UK's biggest), which is just 10 miles south of the city and offers flights to as far afield as Singapore.
The cities of Liverpool, Leeds and Sheffield are all within fairly close proximity and London is accessible too. Despite the capital being 164 miles away, the flight is only 30 minutes and the train takes little more than a couple of hours.
How to find leased, shared and serviced offices in Manchester with Office Genie
Finding your perfect commercial property in Manchester couldn't be easier with Office Genie. All you have to do is:
Click on any advert to learn more about that property.
If you like the look of an office all you have to do is fill in our enquiry form to get more info.
You can also search again using the box on this page Fill in the 'Size' or 'Cost' fields to narrow down your search results further.
Remember, cheap properties are often a little further outside of town and city centres. Use our 'Radius' field to expand your search radius.