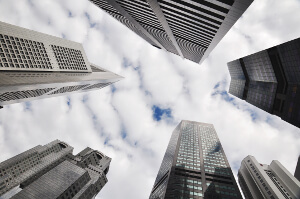 They say if you want to know how the economy is going, you should ask a taxi driver how busy he is. You could also try asking anybody trying to rent out office space in one of our major cities.
So if our home town of Bristol is anything to go by, things aren't too bad right now. According to a report from property agent Colliers International, the take-up of offices in and around Bristol was substantially stronger in 2010 than the previous year, around 860,000 sq ft.
Take-up in the city centre was 459,000 sq ft, around a 40 per cent improvement on 2009. While this is still below the total level for 2008, it's a sure sign of life.
And we have plenty of other reasons to be optimistic. Bristol has been named by the Centre for Cities as one of five "cities to watch" alongside Reading, Leeds, Aberdeen and Milton Keynes. In a recent report it said that Bristol is less likely to be affected by the consequences of last year's spending review, is not reliant on the public sector, has low unemployment levels and the potential to create more private sector jobs.
Guest blog post by John Sulzmann, MD of Artworks Solutions. www.artworks-solutions.com