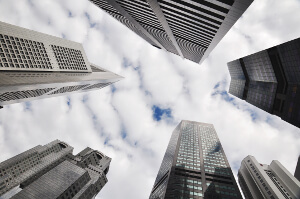 Unoccupied offices in London's prime business areas, the City and Canary Wharf, are bearing the brunt of the Eurozone crisis as rentals have fallen off. According to Savills, new rentals saw a decline of 52 per cent in the first half of 2011.
The Europe debt crisis is to blame, with insurers and banks cutting jobs, and the employment scenario looking gloomy. This year, jobs in the City and Canary Wharf fell to about 8 per cent, which is the lowest recorded since 1998, and even 19 per cent below 2007's numbers. CEBR (Centre for Economics and Business Research) reports that the job scene may not improve until 2014.
Last year, the situation was decidedly different. City rents spiked to 22 per cent, while the total leased space also saw an increase of 37 per cent, according to Jones Lang LaSalle's report. This encouraged brokers and landlords to predict robust growth in 2011. Developers went on with their projects in full swing without thinking too much about renting space in advance and filling up their tenant books.
Some also restarted their projects this year with the hope that 2010's upswing would trickle into 2011, but the debt crisis has brought the UK economy to a standstill and delayed office moves.
Tenant demand is not expected to pick up next year as well, and it is widely believed that the decision to move to a new office will be taken by companies only when the economic environment shows signs of stability. For now, tenants prefer to extend their existing leases.