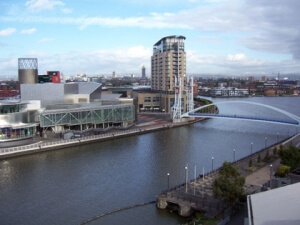 Over the past ten years, there has never been a worse year for the city centre office space market in Manchester than 2011, says a latest Lambert Smith Hampton research. It looks like the slow economy has taken a toll on one of the UK's largest metropolitan cities.
For 2011, the total office-space take-up stands at about 700,000 square feet. This is a big 30 per cent down from the average take-up of 900,000 square feet. What is more, the numbers are almost 50 per cent below 2010's total take-up! The research shows that there were just six instances where more than 10,000 square feet of office space was signed on by occupiers.
Grade A space, in particular, saw a poor take-up in 2011, with year-to-date numbers standing at only 66,000 square feet.
However, it is expected that end-of-the-year deals could see this number moving up. For the record, there is 620,000 square feet of new offices space in Manchester's city centre, and the research indicates that this will be sufficient to satisfy demand until 2014 at least.
But it's not all bad news; there have been some positive developments as well. The office space activity in South Manchester has witnessed an improvement over the previous year. At the same time, vacant office space has risen from 1.73m square feet to 1.85m square feet.
Overall, Greater Manchester has performed better than its closest competitors Birmingham and Bristol. New investment interest and activity is also expected in the near future.