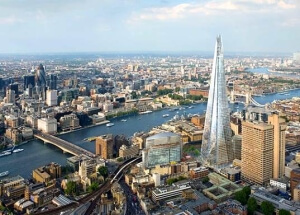 London Shard, the tallest skyscraper in Europe, recently saw a grand opening in the city complete with a spectacular light and sound show.
Situated along the southern back of River Thames, the Shard is considered one of the most controversial buildings in London's history. So far, only the exterior of the building has seen completion with the interiors expected to be finished by 2013.
Renzo Piano, architect of the building called it a 'vertical city' and designed it with a revolutionary glass pyramid design. About 26 floors of unoccupied office space will be opened shortly and developers are rushing to fill up the space as rental value is at its flattest in 5 decades. Instead of a public listed firm, the building was funded by the Qatar royal family, leaving the Shard fairly safe from market pressures.
According to reports, the total development cost for the London Shard is calculated at a massive £1.5 billion paid for by the Qatari royal family. Qatar Central Bank's governor Sheik Abdullah Bin Saoud Al Thani commented that recovering investments was not a priority as they placed confidence in the London office space market. Emphasising that economic slowdown was a normal phenomenon; he also added that their long standing relationship with the metropolitan was sure to bring them the expected profits.
Since September 2010, rental values in the London financial district have remained approximately 55 pounds per sqft. Since 1960, this has been the longest flat rent rates. Leading developers believe that in the next few years, several leases are set to expire and break, encouraging companies to move into newer offices in prime locations like the Shard.