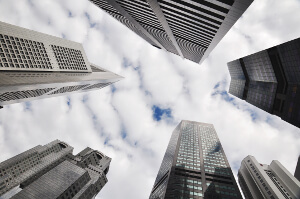 Regional cities around the UK are seeing a sharp rise in demand for office space from numerous corporate companies. The increasing number of professional occupiers in these cities is pointing towards a significant growth in tenant demand.
The office space market in the UK was affected by the recession in the first two quarters of 2012. However, in the past few weeks, available office spaces in prime locations around the UK are seeing a sharp decline.
A large number of current occupiers have a lease expiration date falling between 2014 and 2015, encouraging them to explore other alternatives for office space. The high demand for office space has benefited several UK cities like Leeds, Edinburgh and Aberdeen, increasing take-up by 15%. In other parts of the UK, the recession seems to have a more drastic effect. Bristol and Birmingham in particular, have seen below average take-up in the recent months.
One of the largest lease deals in Edinburgh in the recent years was purchased by BlackRock, occupying over 80,000 sqft of office space. Serving as a major boost to the office market in Edinburgh, the city saw further growth with Brewin Dolphin leasing 47,800 sqft of office space. Second-hand office spaces in UK regional cities continue to constitute over 80% of the available supply. However, owing to the lack of funding, grade A office spaces in the region are very short on supply.
Over the next three years, office space development will be completed at a rate of 0.4 million sqft annually. Although over 50% of the stock has received occupier commitment, the development rate is much slower than the yearly 1.8 million sqft in 2000. The annual average is currently only 20% of the development initiatives ten years ago.