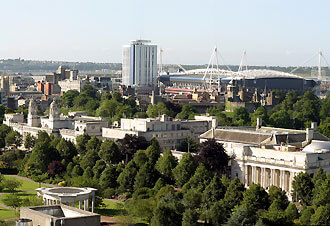 In the recent months, Wales's capital Cardiff has witnessed a significant boost as a potential inward investment. However, the metropolitan lacks adequate grade A office space to accommodate new investors.
A large number of firms based in London believe Cardiff has a lot of potential and are considering other regional cities in the UK for relocation. Most potential investors in Cardiff come from sectors like professional services and finance.
Speculative development in the Cardiff commercial property sector took a hit during the new waves of recession, as did other parts of the UK. However, some commercial space schemes with adequate financial support are seeing the light of day with the most popular example being the 80,000 sqft office space project development by JR Smart. Although the office space is grade A, the location of the project is currently under question as Tyndall Street may not be the best option for a prime location.
Built over Great Western, Capital Quarter is set to open in 2013 and is located close to Cardiff Central Station with an abundance of car parking. Currently, only 46,000 sqft of grade A office space is available at the No. 3 Assembly Square at Capital Waterside. The present occupiers of the No. 3 Assembly Square include Gambit Corporate Finance and KPMG, with law firm Morgan Cole considered the premises for lease. The law firm is currently located at Bradley Court and the lease is set to expire in summer 2014.
To prepare for the increasing number of investors considering Cardiff, numerous developmental plans are to be drawn out. It is estimated that Legal & General could develop as much as 200,000 sqft of grade A office space in the city centre of Cardiff. These developments could help Cardiff bounce back from the recent meltdown and accommodate more investors.