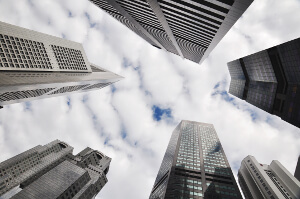 Offices in London previously occupied by financial institutions are seeing demand from tech firms. London's financial district is experiencing a transformation, with large tech companies like Oracle and Skype occupying offices previously used by banks.
The London office space sector is moving away from financial institutions and giving way to tech companies like Weber Shandwick and Mimecast in areas like Clerkenwell and Shoreditch. It is believed that tech firms will also take up office space in more traditional areas like Cannon Street and Cheapside. These companies are also breaking the monotony of office spaces and including think rooms and Wi-Fi to allow the employees to work in a free and dynamic environment.
During the first six months of 2012, TMT (Technology, Media and Telecommunication) firms took over office space spanning over 730,000 sqft, more than double the take up of 2011. Some of the biggest deals in London office take-up include Skype acquiring 80,000 sqft in Waterhouse Square, with Weber Shandwick obtaining about 65,000 sqft in the same premises. Oracle also occupied about 22,000 sqft at South Place, with Yammer acquiring 13,000 sqft on Great Eastern Street.
Office space take-up in London was mainly dominated by TMT firms, acquiring over 27% of the deals in the first half alone. The sector has come a long way in the past five years with 2007's stats indicating the activity at just about 10%. Most take-up activity is currently spread over the Western and Northern City of London. While this is typical of TMT firms, many are also moving towards the centre of the city i.e. the financial district. Recent signings include Monetise taking up 42,000 sqft and Bwin taking up 20,000 at One New Change.