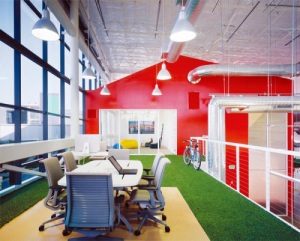 A stimulating office is a bit of an oxymoron, yet it doesn't have to be. More and more companies are taking the hint and investing in the redevelopment of their office space in order to motivate their workforce.
In my opinion a bright poster or a funky piece of furniture is sometimes all it takes to enliven employees with a spark of creativity and where creativity is a valued commodity investing in a £10 poster doesn't seem like such a big expenditure.
Yet, if you want to go a step further and create something completely extraordinary then check out this office space from Google. This fun and inviting workspace utilises branded colours in order to motivate employees and at the same time creates a level of camaraderie and company unity. By adopting a colour scheme that utilises brand colours you can help employees to ingratiate themselves into the company and feel proud of the company that they work for.
It's also a good idea to invest in furniture that stands out from the norm. You want employees to take pride in their workspace and to have fun whilst working there. In my experience a funky desk, like the one pictured, or a luxury chair or even a high-spec computer can make employees feel appreciative of the company and how it treats staff.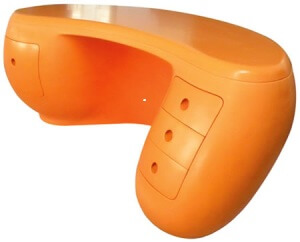 These types of "perks" may be expensive and are definitely not for every company, yet they can pay dividends in the long run. This is because they are likely to spark the imagination of your staff and may even lead to a reduction in the number of sick days.
Lastly, one of the most important things to do in any office space is to encourage people to be individuals and to voice their opinion. The last thing you want to do is cage people in and make them feel as if they don't quite fit in.
You have to embrace the peculiar, strange and odd; as often it is these types of people that will surprise you and have the most to add. They can also add that bit of flair that the office has been missing and make it much more stimulating, creative and fun.
If you are looking to make your office more stimulating then don't forget these three tips as they can make the difference between a dull and drab workplace and the fun office that we all wish we worked in.
Tudor Davies is currently writing content on behalf of Office Man, a leading provider of office relocation and refurbishment services.