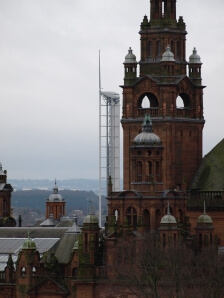 Office space in other larger cities around the UK like Glasgow and Edinburgh is seeing a sharp rise in demand compared to London.
An increasing number of large corporations are considering the expanding office space in Glasgow. Several large deals are expected to be finalised in this quarter of the year.
Demand for office space is also increasing in Edinburgh but the decrease in quality office space could hinder the expansion process.
During the second quarter, these cities recorded a total office take-up of over 40% in the UK and Edinburgh continues to be the most popular choice after London.
Approximately 250,000 sqft of office space was assigned in Edinburgh alone with the total office space lettings set around 882,000 sqft. Glasgow let about 118,670 sqft in comparison with the average of 111,016 sqft.
Additionally, many large corporations are considering Bristol for relocation with the central commercial district seeing a great surge in demand.
International firms like Aisgill Business Solutions and IMS Consulting recently set up shop in Bristol's Royal London Buildings. The flourishing commercial district is home to a wide range of restaurants, cafes, bars, shops and a local train station. Additionally, the emerging office spaces in Bristol are more aligned to sustainability, causing a sharp rise in popularity among large multinational corporations.
The office spaces in Royal London Buildings encourage sustainable work practices and include new showering facilities, large indoor parking spaces for bicycles and great connectivity to the rest of the city thanks to its central location. The Royal London Buildings will also implement practices for recycling, waste reduction, green energy supply and energy efficient systems.
These initiatives have put sustainable ffice spaces in Bristol on the UK map, steering the city's demand ahead of larger cities like London.