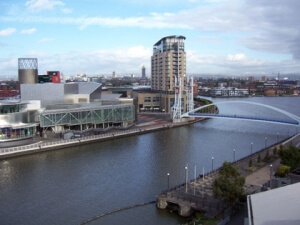 The office space take-up at the Manchester city centre saw a decline over the second quarter this year.
During the first quarter of 2012, the total office take-up in Manchester was about 169,000 sq ft. The number reduced to 135,000 sq ft in the prime commercial location of Manchester.
During the same quarter, the largest office space letting was occupied by Money Plus Group with approximately 21,500 sq ft of grade B office space. This office space was let out at Riverside, New Bailey Street.
A currently unnamed corporation from the United States 'Project Digital' is expected to occupy about 100,000 sq ft this year in top quality grade 'A' office space. This number progressively increased to 170,000 sq ft over the quarter. It is estimated that the present requirements suggest that the annual take-up is predicted for this year is around 850,000 sq ft, inclusive of Project Digital.
Additionally, the Co-op Group is also expected to give way to several grade B office space sites estimated about 380,000 sq ft. The headquarters at Angel Square is expected to cost about £100 million. This indicates that an increasing number of small-scaled transactions in the Manchester office space scene is keeping occupier base strong.
During the second quarter, a majority of the activity was for grade B office space. The grade B sector also marks the highest availability in the current Manchester market. The sector is expected to perform exceptionally well in the following quarters three and four of this year.
A boost in the activity level of Manchester in grade B was predicted by the current activity in Manchester. During the second quarter, the out of town market in Old Trafford saw a pre-let of 125,000 sq ft from Think Money. This move will be completed by late next year.