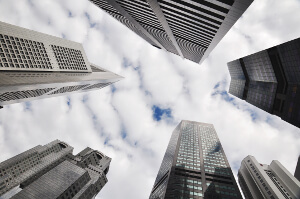 British Land will invest £2.1billion into a range of construction projects over the next three years.
It is expected to provide a major boost to the UK economy, creating 32,300 jobs and a £1.2billion economic stimulus.
Accountancy firm PwC said flagship projects such as the Whiteley shopping centre in Hampshire will give the UK a much needed lift in battling the recession.
Running up to 2015, British Land's investment is set to create 2.3 million square feet of office space and 1.7 million square feet of commercial space. Its 5 Broadgate development in London is expected to make the biggest contribution at £383million, forming the HQ of Swiss banking giant UBS.
Chief Executive of British Land, Chris Grigg, assures his company's investments will include sourcing locally throughout the UK, positively impacting on businesses and communities across the country. It is projected that year-on-year the occupants of its developments will contribute £1.1 billion and 10,200 jobs to the British economy.
Steel expenditure of £80million will create 1,490 jobs in Northern England and Northern Ireland, while mechanical and electrical services expenditure to the tune of £59million will create 650 jobs throughout London, the Midlands and the South East of England.
Mr Grigg has urged the Government to "unlock investment" in the construction industry as he believes this will stimulate future economic growth.
He said: "A renewed focus on encouraging investment in buildings and infrastructure – which offers the potential of a very good return in terms of jobs and economic growth – is welcome. But the emphasis so far has been largely on housing and the importance to our economy of investment in new offices and retail outlets is not always understood."
He added that legal processes took far too long, and a reduction in red tape is needed to lessen the burden on this sector.