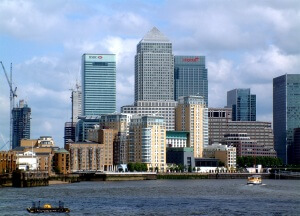 Plans have been announced to develop Europe's largest incubator and accelerator space for startups in the financial technology field.
Level39 is expected to open on the 39th floor of One Canada Square, the tallest operational building in London, next year. It is a space designed to foster the creation of innovative products and services related to the financial technology sector.
The development will span a vast area of more than 29,000 sq ft and will feature a 'technology tunnel'; an innovative space containing live data and interactive exhibits aimed at encouraging user participation. It will allow visitors to engage with the ideas of other startups housed in Level39.
There will also be a 200-seat space dedicated to hosting events, in addition to the innovative 'sandboxes' feature. These will enable software engineers to test and refine their products in a protected environment.
The project is headed by tech entrepreneur, and former CEO of Tech City Investment Organisation, Eric Van Der Kleij. The aim is to attract more tenants from the financial technology sector, underlining London's position as the centre of Europe's digital industries in the process.
Mr Van Der Kleij stated that: "Level39 will help growing technology companies connect with the business opportunities, talent, investment and advice provided by the world's leading financial services providers already established at Canary Wharf.
"We will partner with the world's best FinTech incubators and accelerator programmes to support firms as they progress from start-up through to expansion and growth stages."