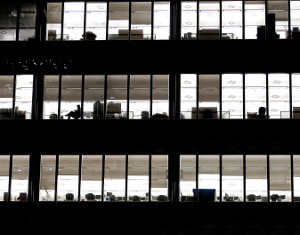 The office of the future will be an increasingly flexible place, a recent poll has found.
The Citrix Workplace of the Future report states many organisations are looking to have reduced office space by as much as 17% by 2020. The UK is one of several countries expected to provide only six desks per 10 workers as a result.
The report asked 1,900 senior figures from international businesses, and found 29% of workers will ultimately be based outside of the office.
Instead it is predicted they will work from environments such as the home (64%), the field and project locations (60%), or in consumer/partner sites (50%).
This is largely due to the ease with which employees can use devices to access vital online services from outside of the office. Citrix has named this trend 'mobile workstyles'.
Some 24% of businesses currently make use of such technologies. This figure is forecast to increase to 83% by mid-2014. Such a rapid rise is expected due to the benefits of the mobile workstyles model.
It is reported 73% of employers feel 'workshifting' (people working at convenient times, in convenient locations) creates a more dynamic and adaptable workplace.
The poll shows many organisations can use this model to decrease both employee-related and real estate costs. In addition many businesses feel a more flexible approach to work ensures they will attract and retain the best candidates.
Employees also feel the benefits of this. According to the report 65% of workers say flexible working is preferable, and 62% felt their productivity increases in such an environment. In addition, many felt commuting times can be cut, work/life balance is improved, and employees can spend more time with customers.
This is set to be underlined with a change in the office environment itself. Its is claimed the majority of organisations are also looking to remove traditional cubicles. They hope to create a more open space that helps foster creativity.