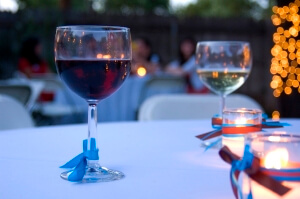 A report in the US has exposed some of the extreme behaviour that occurs at office Christmas parties.
The survey, commissioned by the Creative Group, asked over 750 marketing and advertising executives to name the most outrageous thing they've seen at a festive bash.
In addition to one person claiming they had seen an employee drive a golf cart into a river, examples of extreme behaviour included throwing co-workers into lagoons and nude Ferris wheel riding.
Additionally, one respondent said a co-worker once smuggled home leftovers in Tupperware boxes, whilst others reported colleagues leaving in the wrong shoes. Some also said they had seen their fellow employees breaking tables and even limbs.
The survey also revealed the unusual plus-ones some employees bring. These included whole families, cocker spaniels and pet pythons.
It's not all bad however; one respondent reported seeing a proposal at an office party.
Donna Farrugia, executive director of The Creative Group, advised employees to exercise discretion when enjoying office festivities.
She said: "Company events are for getting to know co-workers better and having fun, but employees should keep their behaviour in check."
"As with any social interaction with your boss and colleagues, it's important to display professional etiquette, even outside of office walls."
Us Brits could also learn from Ms. Farrugia's warnings, as one in ten UK office workers has been disciplined as a result of their behaviour at an office Christmas party.