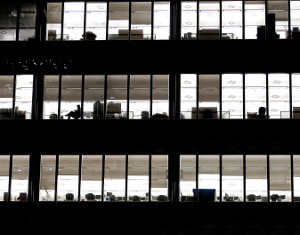 A recent survey has shown many businesses are cutting down the amount of office space they use.
The Colliers International Office Occupiers Survey 2012, published earlier this month, found 40% of the businesses questioned have reduced their office space requirements in the past five years.
Some four out of five respondents said they had done so due to financial factors.
However the report revealed that, in spite of a turbulent economic climate, businesses remain concerned about how the office environment can potentially impress clients and help retain employees.
Many of the companies surveyed stated the latter can be substantially affected by the nature of office space. Amenities and accessibility were cited as the most important factors when considering how the workplace can help attract and retain staff.
The report also revealed many of the companies that either moved office or renewed the lease on their current workspace in the last two years are taking the opportunity to reconsider the working environment.
Some 84% said they had done so by integrating practises such as hot-desking and desk sharing.
Guy Douetil, managing director of Europe, the Middle East and Africa corporate solutions at Colliers International, said: "Against a backdrop of continuing economic uncertainty, the findings of our survey are sobering yet encouraging.
"After staff costs, a business's office rental costs are often the second highest."