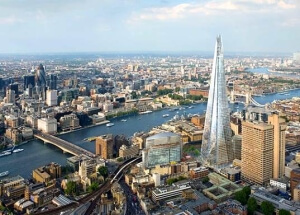 In 2012 £13.57 billion worth of property transactions took place in the capital; a 25% increase on last year and the strongest performance since 2007.
Recent data published by Cushman & Wakefield showed deals for hotels, shops and offices have been boosted by a surge in Asian investment.
Overseas investment in the City accounted for 80% of all commercial property deals. Much of this came from China, South Korea, Singapore and Indonesia.
Additionally, there have been a number of deals involving government-backed funds from Malaysia; including a £400 million pound deal to buy Battersea Power Station.
There is also thought to be Malaysian interest in Blackstone's £800m Chiswick Park development.
This rise highlights the capital's ability to attract foreign investment. However it is also contributing to an increasing gap between the property market in the capital and that across the rest of the country.
Away from London, trade has been hit by a lack of financing from banks and practically non-existent levels of foreign investment.
Bill Tyser, head of investment for Cushman & Wakefield in the City of London, suggested the capital will continue to attract foreign investors.
He said: "With continued macro-economic political unrest and the secure nature of freehold investment property in the UK, coupled with a relatively weak pound and our transparent and easy access into the property market, it is likely to ensure this international interest will continue into the foreseeable future."
According to Jones Lang LaSalle, the property consultancy, levels of investment in London have reached such a high the city boasts a larger commercial property market than any country in Europe.