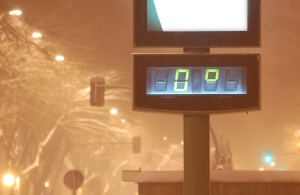 As cold weather grips the country, the Forum for Private Businesses (FPB) has advised businesses on how to cope as temperatures plummet.
The FPB have underlined the importance of organisations being prepared for all potential extreme weather conditions; particularly small businesses, as these can be most at risk.
This has been underlined by YouGov figures, which show some 37% of small businesses surveyed in a recent poll said they had experienced problems following heavy snowfalls.
A further 13% said they had been 'seriously' impacted by bad weather.
The FPB advise businesses to plan even the simplest schemes, such as allowing employees to work from home, in advance.
FPB spokesman Robert Downes said: "Disruptive weather such as heavy snow and unusually cold weather hampers deliveries, triggers heating and power failures, and can often mean employees can't get to work.
"Recent winters have demonstrated just how susceptible the UK is to extreme weather, and the cost to business quickly runs into millions.
"When infrastructure grinds to a halt and staff can't get to work it can be a body blow to small firms, and those businesses with the least staff are hit the hardest.
"So it's essential for small and micro businesses do all they can to mitigate the impact and being proactive now will mean not having to rush out a reactive plan once bad weather strikes.
"It can be as simple as allowing staff to work from home if possible. Do they have a computer, can they access their company emails - these are simple things but if they aren't pre-arranged they can't happen."