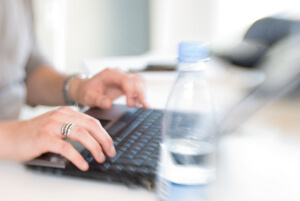 Enjoying lunch at your desk has been branded a "disgusting" habit by an MP.
Minister for Health Anna Soubry said workers should not eat at their keyboard and should instead "enjoy" their lunch break.
This comes soon after a recent survey commissioned by Alpro revealed many workers do indulge in this habit; often due to their workload or pressure from senior staff to stay in the office.
The health minister said she encourages employees in her Nottingham constituency office to leave the workplace and enjoy their lunch break elsewhere.
She called upon more people to do the same, saying workers should use lunchtimes as a time to "chill out, get your head back together, and enjoy what you're eating".
Her opinion does correlate somewhat with recent research from Ryvita, which found 79% of people felt energized after escaping the office at lunchtime.
However, the health minister does not always practise as she preaches. The Daily Telegraph reported she has previously admitted to eating lunch in her office.
Ms Soubry's words may be falling upon deaf ears as Alpro found we are eating more and more meals in the office. Many workers are now eating breakfast in their workplace and the majority say they are more than happy to do so!