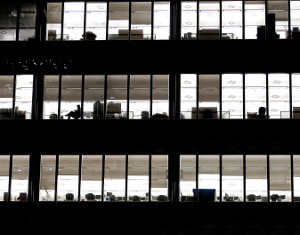 Offices in London's West End have been found to be the most expensive in the world, according to a recent report.
Real estate giant DTZ's annual Global Occupancy Survey found the average workstation in this specific area of London costs $23,500 (£14,864) per annum; a figure that is three times the international average.
The figure is so high the West End has knocked Hong Kong off its perch as the world's most expensive location in which to rent office space.
Richard Howarth, head of DTZ West End, said: "These figures are a tangible reflection of the fact that London is a highly attractive place to locate a business."
"While boutique specialist financial sector companies are happy to pay a premium to be based in one of the world's premier business districts, recent transactions involving Google, Skype, Facebook and LinkedIn have all been at a considerable discount to Mayfair prices."
The report revealed further trends in the global office rental market. It found occupancy rates in the US fell by 10.9% last year, due to low demand and increases in the efficient use of space. However, DTZ predict costs will rise in the region.
In contrast, costs were found to have fallen by 1.3% and 0.7% in Kuala Lumpur and Singapore respectively.
Additionally, despite a 12% drop in Hong Kong, costs in North Asia were found to have risen by 6.3%.
Growth was also registered in Europe (0.9%), the Middle East and Africa (1.4%) and Central and Southern America (0.6%); all of which represent growth significantly below the global average of 3.2%.