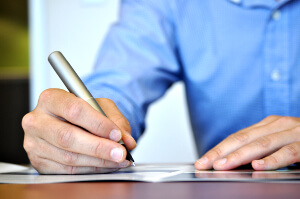 British taxpayers could save millions as a government department relocates to an office in which hot-desking and flexible working will be standard practise.
Hundreds of employees at the Department for International Development are being moved to a new HQ in which they will be required to share desks. Around 500 workers will be making the move from their current home near Buckingham Palace.
They will move to a 'minimalist' workspace set up in vacant government-owned premises in Whitehall. The office will contain only seven desks for every 10 members of staff, which could encourage employees to work on a more flexible basis.
It is also hoped an emphasis on practises such as video conferencing can help staff cut commuting times.
The move is expected to save around £10 million a year from now until 2020. This should amount to a total of £62 million worth of savings to the taxpayer.
Alan Duncan, the Department for International Development minister, underlined how the new workspace was designed with efficiency in mind.
He said: "We are maximising the use of space and most of the office will be paperless. People in DfID travel a lot so it makes sense to do more hot desking."