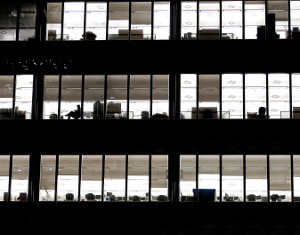 Recent research has confirmed the suspicions of many frustrated workers by finding boring offices can have a negative effect on creativity.
A survey of 2,000 office workers, carried out by Overbury, discovered one in three employees felt their workplace was 'demotivating'. Around a quarter of respondents described their working environment as 'sedate and silent'.
One in ten even described their office as 'a creative and cultural desert'. Many respondents (35%) said they liked to work from home 'whenever possible'; citing an uninspiring office as their main reason for doing so.
When employees were asked how their offices could be improved, the most common response was found to be creating 'a more social space'. Many said this was because inspiration often comes from chatting with colleagues.
A band of chilly workers said they would most like better heating in their office, which was the second most popular answer. Other frequently-mentioned improvements were better furniture, more access to refreshments and better coffee.
Anthony Brown, a director at Overbury, said: "At a time when organisations in the UK are looking to their staff to drive innovation and competitive advantage, it is worrying to hear that so many employees are lacking the tools they need to be creative.
"Organisations are missing a golden opportunity to foster greater ideas generation by putting creative collaboration and social interaction at the heart of their office design."