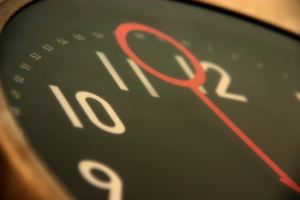 It feels as if almost everyone is working 'on call' now. Between emails, texts, calls, meeting notifications and everything else, finding a bit of quiet time is a distant memory.
While this might have made some workers more productive, many find themselves stretched in more directions than ever. So how can you best manage your time?
1) Routine, routine, routine
Once you've got a daily routine to fall back on, things can become much simpler. You could start by setting time for cleaning out email, perhaps between nine and 10 in the morning. This can also be a great way to get going at work; no one really works at their best first thing! Whatever doesn't get done in those 60 minutes will just have to wait until the following day.
Similarly, that ever-growing to-do list might get cleared quicker if you have a few hours every day dedicated to it. Of course, you never know when you're going to be called into a meeting, or assigned an urgent task. But for those days you aren't overly disturbed, having a routine to go to can really help get things done.
2) Prioritisation
If you only have one hour to clean out old emails in the morning, knowing which to address first is key. This is where Gmail is particularly handy, as it can organises your mail into 'Primary', 'Social' and 'Promotion' boxes. Within these, messages that seem particularly important are flagged up. This makes it considerably easier to deal with priority messages.
Also, make sure you're in sync; something that's becoming increasingly difficult as people are using all sorts of different reminders across PCs, tablets and smartphones. And if your desk is a mess, get organised! You know what people say about clear desks and clear minds.
3) Get technical
There an abundance of tools that can help you prioritise and generally better-organise your time. You might want to look at:
Trello: A free online project management application. You can create a task list for yourself or manage an entire team.
Evernote: From almost any platform this software allows you to archive interesting pictures, websites, notes, and more. It's brilliant for anywhere-access to-do lists in particular, all you have to do is add your note, hit sync and it will be available on all your devices.
Google Calendar: A Google/Gmail-based online time management application. You can view other people's calendars, organise events and invite others.
Doodle: An online scheduling tool that allows groups of people to easily find a date and time to meet. It can cut out the endless string of emails trying to establish everyone's availability.
Toggl: Time tracking software that allows you to record how long you spend doing tasks, and also allows you to report that information to your team leaders.
It's all about finding what works best for you. However, a combination of these techniques/apps could set you well on the way to much better time management.
This article was contributed by Jamie Teasdale, Founder & CEO of Propel Businessworks.