Mother's Day is this weekend and what better way to celebrate it than discussing all the wonderful things mums help us achieve. Mothers can be a great source of inspiration and have a hugely positive impact on their child's career, as we found out from our panel of entrepreneurs.
We chatted to Steph Douglas of the gifting company for new mothers Don't Buy Her Flowers; Sarah Lambley of Fit for Keeps; Vincent Moore of office equipment and services provider Simple; Emma Coleman of bespoke skincare company Inner-Soul Organics; and Genie's very own Ciaron Dunne.
What skills has your mother helped to instil that have proved useful in your career?
Steph Douglas (SD): My mum was a nurse, and a midwife for many years. She's seen a lot of babies, plus had six children so she completely knows what it is to be a new mum. She has a lot of empathy, which is something central to the business.
She is also hard working, determined, excellent at multitasking and a strong woman, and that has hugely influenced me and who I aspired to be growing up. They're all pretty critical skills to a business owner too!
Vincent Moore (VM): My mother taught me hard work from day one was the only way to achieve real success in life. Combining hard work with being analytical has allowed me to grow my business from nothing to a company which now employs over 15 people.
Sarah Lambley (SL): My mum has been my biggest cheerleader and constructive critic for as long as I can remember. Even now when I have a big presentation or something nerve wracking to do I remember hearing my mum saying "just get up there and get on with it!". She would never let me get away with giving in to my nerves. Reminding myself of that encouragement has got me through a lot of scary moments.
Emma Coleman (EC): My mum loves a challenge and is a great multitasker - she was a single mother to my sister and I and managed to work two jobs whilst we were at school to make ends meet. This gave me a sense of tenacity, teaching me that hard work gets results.
Ciaron Dunne (CD): Where to start?! My mum is an amazing role model. I'm going to have to limit myself to two things that have helped me hugely, which are the importance of getting on with people and the importance of attitude.
My mum (Jan) is incredibly welcoming and generous and never looks down on anyone, and I've always noticed how people warm to her very quickly. I've definitely tried my best to be like that (with mixed success), and I do think that being friendly and treating people well, no matter what their role or status, gets you a long way.
In terms of her approach to life, my mum will never rest when she is working at something - whether it's something exciting like throwing an amazing party, or something hard like caring for a disabled child - and she never wants thanks, never complains, never takes out her frustrations on other people. I try!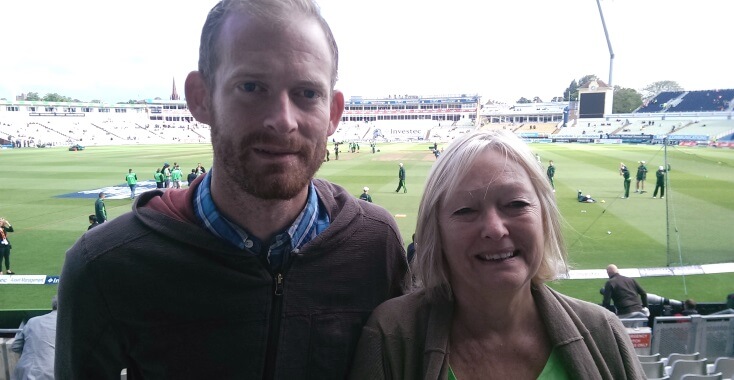 How has your mother supported you and enabled you to fulfil your business aspirations?
SL: My mum has always told me I could be anything I wanted to be. It never occurred to me that there was something I couldn't do. My parents ran their own business so I've seen first-hand the ups and downs that come with the territory. She did this while still managing to do school drop and pick up, drive me to music lessons and bake cakes if required!
She really was Wonder Woman - more so than I think I'll ever be. But what came with all that was her instilling in me that if you work hard you can accomplish anything. I think my mum is responsible for my really strong work ethic and enthusiasm for problem solving.
EC: She has a great understanding of how it is to set up a business and make it a success. Her own drive and determination has become reflected in me and we will always have that bond. But most importantly she has huge belief in me which has given me the confidence to start out on my own.
CD: By encouraging me no matter what I say I'm doing next. I think it's surprisingly important to know that people are there for you when you (inevitably) mess up.
SD: My mum has never indicated that there's something I can't or shouldn't do. She's let me find my way but has supported me and is there when I need her. I think self-confidence is a major factor in starting your own business so, however she did it - and I don't think I even realised I had it until I started the business - she gave me self-belief!
VM: From a young age I was always keen to start a business which makes an impact on people's lives. We are very environmentally conscious with the way in which we conduct business. My mother taught me the phrase "waste not, want not". This is definitely something which I have carried over to the business and instilled in our ethos.
How did your mother respond to you setting up your own business?
CD: With total support, of course. And she gave me a load of staples, envelopes and post-it notes from her own business - a lingerie shop!
EC: My mum was excited about me setting up the organic skincare business because she loves beauty anyway and was curious about natural brands. In the early stages she tried out a lot of the new formulations and critiqued them for me, which was invaluable.
SL: With an enormous amount of encouragement - and I guess some nervousness! She knows what running your own business is all about so I think she worries about me juggling everything. She has also been brilliant at stepping in with practical help in the form of childcare.
VM: My mother supported me alongside the development of the company, from day one to the present day. She has always taught me to never give up and to go after exactly what you want in life.
SD: I know she's super proud. She'll say to me 'I met someone today and told them all about Don't Buy Her Flowers'. It's lovely as my parents are on the journey with me, watching it grow and feeling the excitement.
Do you think lessons learned in motherhood can lend themselves to business?
EC: Without a doubt. I have learned that patience and being less reactive (taking a step back) have helped me in my business, and both of these skills have been learned through parenting my three sons. My prioritising and organisational skills have also vastly improved through being a mum.
SD: Yes! We haven't got time for messing about, we get stuff done while everyone else wants to have a meeting to discuss it. I think more and more women are realising that rather than motherhood being the end of their career, it might just be the beginning and they want to find something they love doing.
It's such a juggle, it might as well be a worthwhile one. All that energy is being channelled into exciting businesses and new ways of working.
SL: Definitely - I have to deal with two small children daily and they can teach you so much about negotiation and multitasking! I think another important factor is that once you've become a mum, you can totally relate to other mums and the challenges they face. This has given me a great respect for the parents who juggle full time work and children and also made me think a lot about what my approach to hiring staff could be.
I know lots of brilliantly talented mums who have had to put their careers on hold because the jobs available require longer hours than they can manage. It's such a shame because so many businesses could be benefiting from their experience and talent if they were to approach working arrangements differently.
CD: Not being a mother, it's difficult for me to say! Certainly parenthood can (although I guess not always) teach you perspective, give you confidence in your ability to do important things, and make you into a much more organised person who knows how to get things done. All clearly useful skills in business, and in any walk of life.
I often find that working mums are great people to work with - they can be very focussed on getting their work done, because there's little or no opportunity to catch up during evenings and weekends.
How are you planning to celebrate mother's day?
SD: Oooh, Mother's Day is our busiest event of the year, so I am hoping my family will let me have a lie in, take me out for lunch and let me consume all the gin!
SL: We usually do something special. Last year just me and my mum went to a fabulous restaurant in Leeds for a girls lunch with bubbles - we don't get much time together on our own these days so it's a real treat when we get the chance.
VM: A large bouquet of flowers, some chocolate and a glass of vino is all that's required for mother's day.
EC: I will spend the morning with my gorgeous boys, hopefully breakfast in bed, then take the dog for a walk as a family. In the afternoon my mum and sister are coming over to my house to celebrate with me, we will all contribute some food and exchange cards and gifts and have a bit of a dance around the kitchen!
CD: Taking my kids to stay the weekend at my parents, where I imagine my mum will wait on them hand and foot. Also we've bought her some crazy huge pottery owl, which she'll most likely hate.
About the panel
Steph Douglas is the founder of Don't Buy Her Flowers, a company selling thoughtful gift packages for new mums and anyone in need of some TLC.
Sarah Lambley teamed up with Jenny Garside to start Fit for Keeps. She is the co-creator of Tuffit, a revolutionary piece of home fitness equipment designed to look like furniture.
Vincent Moore runs office equipment provider Simple. They provide photocopiers/printers, business telephone systems, franking equipment and IT hardware.
Emma Coleman is the founder of Inner-Soul Organics. The company offers award-winning skincare products for men and women.
Ciaron Dunne is the MD of Genie Ventures, a digital marketing and publishing company encompassing Office Genie, Broadband Genie, Genie Goals and the Genie shopping network.