Office Genie recently looked into the various factors that contribute to workplace happiness. We asked 2,000 UK workers about their working environment and we found design has the largest impact on employee happiness.
Workplace design boosts the happiness of employees by a whopping 33%. It has a larger impact than temperature, light, noise, and even social interaction levels. Temperature made an average difference of 5%, light 6%, noise 8%, and social interaction another 8%.
When it comes to the effect on workplace happiness, design also came in ahead of flexible working. The ability to work from home made a not insignificant difference of 12% to happiness levels but design outstripped this by a huge 21%.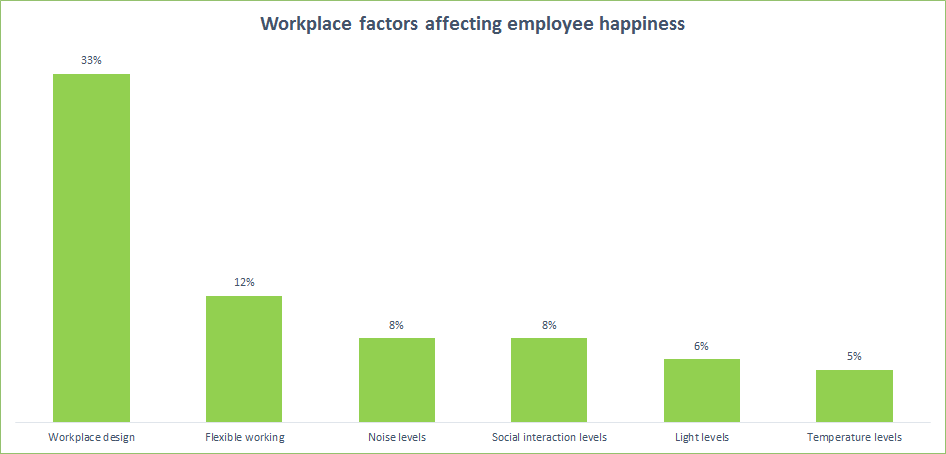 Peter Ames, Head of Strategy at Office Genie, had the following to say on the findings:
"At Genie we've long been advocates of the idea workplace design has a huge impact on employee happiness.
"Providing people with the environment they need in which to work at their best is arguably the most important step in ensuring staff are happy and also productive.
"In the modern workplace, where things such as flexible working are increasingly at the forefront of workers concerns, we'd urge an even stronger focus on factors such as design and layout: The cliche of a dull, dreary office is increasingly anachronistic, and this data shows why this should be the case."
To get a first-hand insight into how the design of a workplace can affect an employee's happiness, and the company as a whole, we spoke to Rob Tomkinson of Impression:
"I was the third person to join Impression, after the founders, and during the early days we were based in a 200 sq ft city centre office - the size of our current meeting room! It was OK at the beginning but as the company grew, and took on more staff, it began to feel very small and cramped. It was very minimalistic - with just a few desks, chairs and laptops - and we couldn't really put our own stamp on it.
"Now we're based in a 2,500 sq ft office in a grade II listed building in Nottingham city centre. The place has a real charm about it (there's exposed brick work throughout), and it's all open plan, which makes it flow nicely. The founders, Aaron Dicks and Tom Craig, don't have their own office either, instead they integrate themselves within the team so to be approachable."