Office Genie's latest research has found seemingly-innocuous stationery is quietly disrupting the modern workplace: Our online survey of UK workers found millions have potentially been injured by stationery items in their place of work [1], while even more (some 24% of respondents) admitted to pinching pens and robbing rubbers.
East Anglians are the biggest culprits
Respondents in the East of England were the most likely to pilfer stationery from the workplace; some 34% have admitted to taking items home with them.
People in this region are also the most likely to be injured by stationery, with 16% also saying they had been harmed by such items in their place of work.
Londoners are the second most likely to take items from the workplace (31%) while workers in Wales are the most honest; only 17% said they had done so.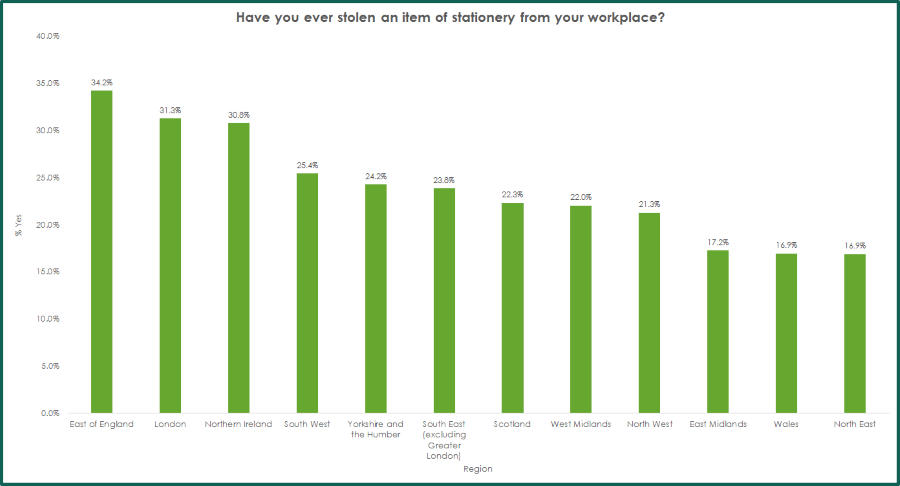 Not afraid of the consequences
People are willing to fly in the face of reprimand, with over half of those who have taken stationery without asking feeling they will face consequences.
Topping the list is a simple warning, with 53% feeling this is the most likely outcome. However, some 21% feel they might face formal disciplinary procedures, 13% fear they might get fired, while 7% think they might even face criminal prosecution.
Pens top the list
Our research found pens were the most commonly-stolen item, shortly followed by envelopes, Post-Its, marker and highlighter pens and stick tape. See below for the full list: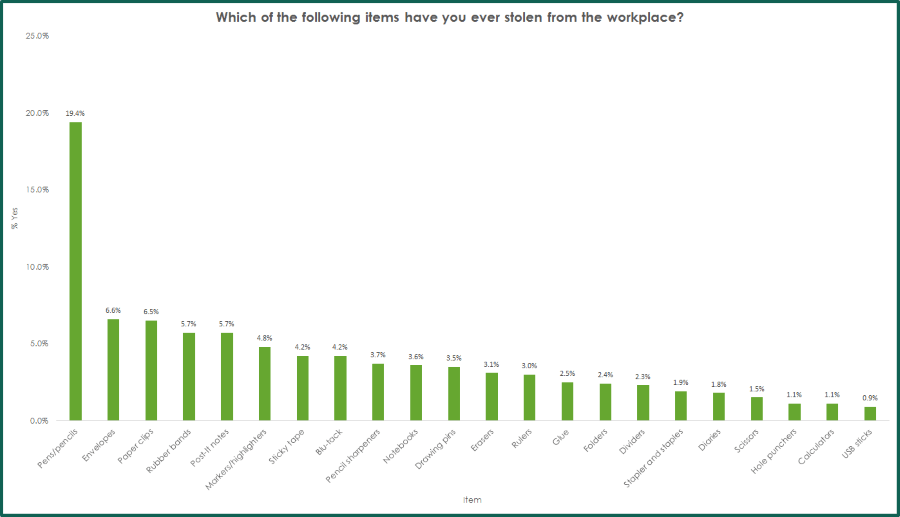 However, stationery itself could be consigned to the history books within a few years, with almost half (48%) of respondents believing it will be redundant in near future.
About the research
The research was conducted online on OfficeGenie.co.uk between 06 April 2017 – 19 April 2017.
[1] We found 10% of people said they had been injured by stationery in the workplace. The latest ONS figures suggest there are 31.84 million working people in the UK. Multiplying these two figures together we can suggest around 3.184 million people have been injured by stationery in the workplace.