Workplace wearables are on the rise and so are concerns associated with them. Before you sign your company up for smartwatches or finish off the Fitbit contract, make sure to consider the potential pitfalls of the workplace wearable.
In our recent survey of 1,000 British workers, we discovered that while more than half of staff (51%) are keen to feel the benefits of wearables in the workplace, there are some pressing issues. With global shipments of wearables due to increase at a rate of almost 25% compound annual growth, such concerns could do with being tackled before the widespread implementation of wearables in the workplace. Before getting into employee doubts surrounding them, it makes sense to explain what they are all about.
First things first: What's a wearable?
The term 'wearables' refers to technological devices that can be worn on the body in the form of accessories, or can be incorporated into clothing. They can however be more invasive, like micro-chips or smart tattoos. In the workplace, wearables will often monitor factors such as location, stress, physical and mental health, and location. Popular examples include fitness trackers and smartwatches: if your workplace has these you're likely to have enrolled in FitBit and/or Apple's programme aimed specifically at businesses.
When it comes to companies implementing wearables, respondents (42%) selected stress monitoring as the most appropriate usage. This was followed by physical health (41%); productivity (30%); and mental health monitoring (24%). Location monitoring was deemed the most inappropriate use, at only 20%.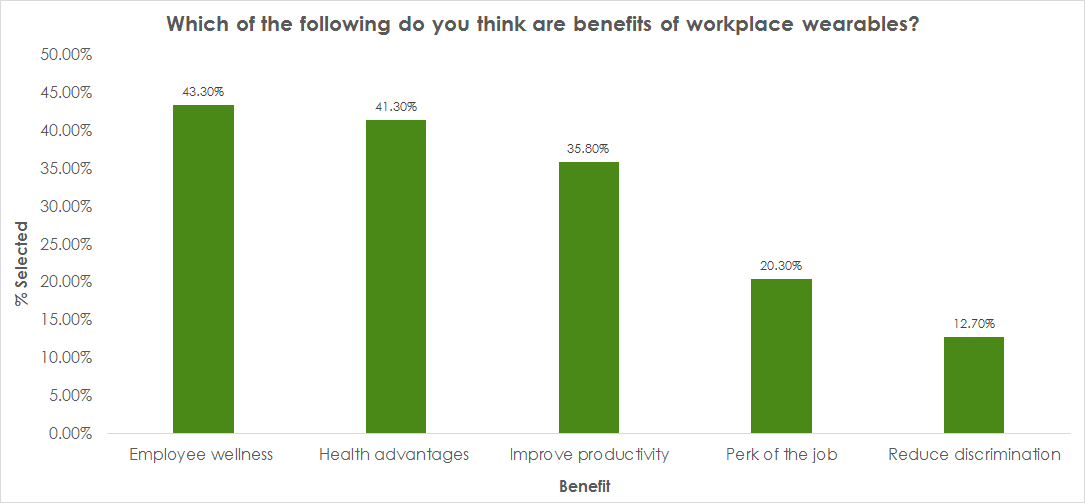 What are the key concerns?
Despite people believing stress and mental health monitoring to be a valid use of workplace wearables, many are concerned about the impact such devices could, ironically, have on stress and mental health: 49% and 43%, respectively.
The primary worry with wearables however is the chance that their adoption could lead to a 'big brother' surveillance culture: a huge 67% of respondents fear this may be the outcome. Many people (58%) are concerned their employer would snoop on out-of-office data. This fear is highlighted in the fact that if given wearable tech by their boss, workers would rather use it for professional use only (33%) than professional and personal use (21%).
Hacking is another issue concerning British workers: 64% of people are afraid data from devices could be hacked. High-profile hacking cases - such as the recent WannaCry attack - may have elucidated such fears.
It's not all doom and gloom...
Respondents in the youngest and oldest age brackets are decidedly more cheery about the matter of workplace wearables. 69% of 18-24 year olds think they are beneficial to the world of work, as well as 61% of 65+ year olds.
The top three benefits are considered to be: improved employee wellness (43%), health (41%) and productivity (36%). When stress trackers, posture correctors, and AI assistants are set to be the next big things in the workplace wearable tech, it seems businesses are indeed trying to focus on wellness, health and productivity.
Last year a staggering 202 million wearable devices were given out by companies and this is only on the up. It is therefore important to bear in mind not only the benefits, but employee concerns too - and aim to ease them.
Peter Ames, Head of Strategy at Office Genie, has the following advice:
"If employers are planning to introduce workplace wearables, these concerns have to be considered. First and foremost employees need to be be clear as to the legitimate reasons behind their introduction.
"Creating a document informing staff of the data sets that will be employer-accessible can help reduce fears of snooping bosses.
"These concerns aside, workplace wearables have been linked to improved productivity and job satisfaction, as well as health benefits. So it definitely isn't worth writing them off - particularly with the majority of employees in favour of them!"