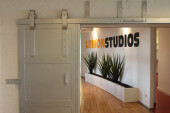 Desk Space Genie has decided to take a look at one of London's oldest serviced office spaces. Saranyah Sukumaran looks into why the company has been so successful.
Lemon Studios offers 'more than just office space.' Located in the centre of Clerkenwell, this joint venture between Lemon Digital and Econsultancy has proven a resounding success. With 68 desks leased out to 25 different companies, it has become a hub of business, knowledge and expertise.
Their building houses a community. A community of web producers, PR consultants, online marketers, all with the same vision of locating in London. There are clear signs of camaraderie within Lemon studios. This is shown by their regular networking events and the mere fact that over 50% of tenants are currently undertaking business with each other.
Lemon Studios told Desk Space Genie, "We attribute our success to the bringing together of like minded companies to build a community of digital businesses who thrive off each other, and for creating an environment that matches their needs."
They added how, "Historically serviced offices have tried to lock consumers into long rental contracts and charge additional fees for add-on services." However, "they operate differently by offering an all inclusive fee."
Renting a desk costs about £425 per month, which includes everything you need: telephone, the Internet, a reception, usage of the meeting room, security of the premises, 24 hours a day 7 days a week access, as well as the extra bonus of free beer and wine on Fridays.
Flexibility and transparency are pivotal to their sucess. Contract lengths can be as short as 2 months with only a 1 month notice period. Particularly with the recession, the desk space rental market has grown, with more and more people choosing not to get themselves into a long term commitment. Lemon Studios provides them with a more financially viable option with few obligations.
Virtual Offices are an alternative. A firm can have that 'London presence' i.e. in the postal address, without physically being located there. The deal offers access to the Lemon Studios hot desks as well as the meeting rooms for clients. This is ideal for companies based outside of London or even outside of the UK. Increasingly businesses see London as an opportunity for development and with serviced office space this opportunity requires little capital investment.
Lemon Studios continues on its virtuous cycle of growth and was recently involved in two reputable partnerships. One with UK Trade & Investment (the government department promoting external trade) and the other with Match Office (a serviced office specialist supported by the Danish Embassy).
Tough market conditions have left Lemon Studios unruffled. They still remain strong, with enquiries up 50% on the previous year. Their expansion is completely understandable, demand is high and there was a two month waiting list to rent a desk.
So what does the future have in store for Lemon Studios? Their long term aim is to offer 1000 workstations all across London. But how will they achieve this? More locations. The firm was established in 2005 with just one building. Now it comprises of 10,000 square feet over two floors. This is not for long though. Shoreditch (for design, creative and media companies), Soho & West End (for film production and marketing businesses) and Southbank (for technological firms) are all marked on the map for the future. As the desk space rental market and demand for serviced office space grows, Lemon Studios is growing alongside it. If it's track record is anything to go by, Lemon Studios is set to have a long and prosperous future.