Office space: Sheffield
Sheffield is a city with an international reputation for innovation, engineering and customer service and it's also one of the UK's most cost-effective business locations. Over time 'The Steel City' has developed an excellent reputation and it's a great choice if you're looking for office space.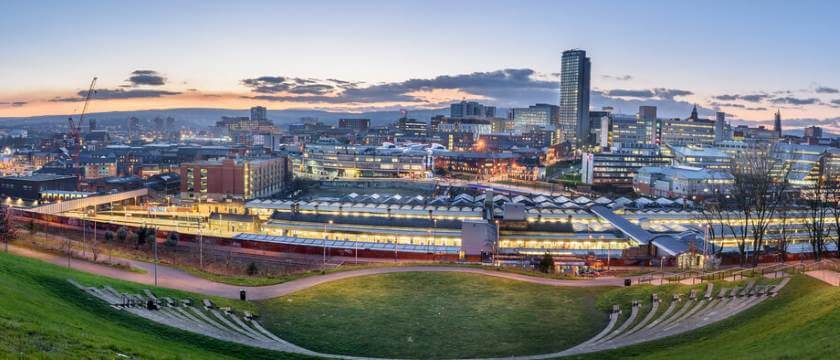 Sheffield is already home to a whole host of successful companies: Rolls-Royce, Virgin Media, IBM and Capita to name but a few. Lease office space in Sheffield, and there's no doubt you'll be in good company.
It's also one of England's greenest, safest cities and was recently voted the most popular student destination in the UK. The city has loads to offer, from a buzzing, cosmopolitan centre to the calm tranquillity of the Peak District, which is right on its doorstep.
All this makes Sheffield an excellent location for office rental.
The history bit
Sheffield was once one of Britain's great manufacturing centres. Its 'steel city' nickname pays homage to the region's industrial roots. Manufacturing output, and resultantly the city itself, declined in the 20th Century. But 21st Century Sheffield is on the up.
Since the building of the Meadowhall shopping centre in the 1990s, the city has seen rapid regeneration. A superb tram system was established, galleries and museums have been opened and the Peace Gardens have been renovated. It's now a thriving hub that has attracted some of the world's biggest businesses, and you could be next!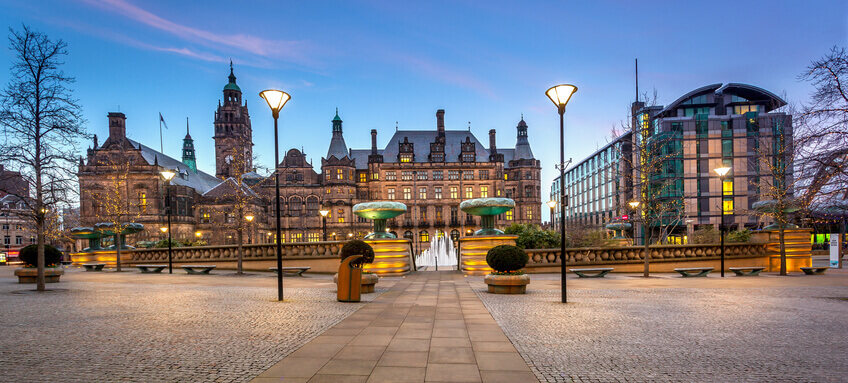 Doing business in Sheffield today
There are a whole host of reasons to let office space in Sheffield. Firstly there's the quality office space that's available:
It's cheap: Grade A office space in Sheffield is around 40% cheaper to rent than London.
It's available: Office Genie offers an extensive list of offices and desks available for rent in Sheffield. Whether you want often-cheap traditional leased properties or executive, all-inclusive serviced offices and desk space, we've got you covered.
What's more, with a peak commute catchment population of more than two million people, there's also a high-quality workforce at your fingertips:
64.8% of the city's population is of working age.
Some 300,000 people hold a degree-level qualification or higher.
The city has two reputable universities – The University of Sheffield and Sheffield Hallam and has a high student retention rate.
Salaries are 29% lower than London.
The city boasts high levels of business expertise, particularly in manufacturing, e-learning and IT support.
Getting to and from the steel city
A handy location, with easy access of all the UK's major cities via the M1, M18 and A1, is another reason to consider renting office space in Sheffield. London, for example, is less than a three-hour drive away.
But if you are planning on heading to the capital you might want to consider going by train. An average of two trains every hour leave Sheffield for London, with the quickest journeys little more than a couple of hours. The train network extends to Europe as well, with Brussels just over five hours away.
If you are an international business, then Sheffield is a great option. The city is handily placed between six airports, none more than 65 miles away. The Robin Hood Doncaster Sheffield Airport alone handles more than one million passengers per year, flying them to more than 40 destinations.
Within the city itself, getting about is equally easy: Property consultants GVA Grimley found Sheffield to be the least congested city in England in the Transport Friendly Towns Report. This is probably due to excellent public transport systems; Sheffield boasts one of the UK's most efficient tram systems, as well as an extensive bus network.
Using Office Genie to find leased, shared and serviced office space in Sheffield
We've got an extensive database of offices available for rent in Sheffield. So, to rent a property using Office Genie all you have to do is…
Click on 'View details' to learn a bit more about the one that's taken your eye.
If you like what you see, enquire using the form provided.
You can also search again using the filter search box. This allows you to change your location and add extra details such as the number of people you want to house and the amount you'd like to pay per person.
This allows you to change your search radius. This is a good way to find the cheaper properties that might be just a little further out of town. In Sheffield it could pay to look outside of the central business district located inside of the ring road.